32nd Annual General Meeting of Pakistan Overseas Employment Promoters Association (POEPA) which is sole legal representative Trade Body of all Pakistan Overseas Employment Promoters (Recruitment Offices). The POEPA deals with trade related collective matters of manpower recruitment. It also promotes the trade and export of Pakistani manpower and makes efforts for welfare of recruited workers as well as for Recruitment Offices. It was incorporated under the provisions of The Emigration Ordinance, 1979, The Trade Organizations Act, 2013 and The Companies Act, 2017. It has been licensed by the Ministry of Commerce; Government of Pakistan vide license No 02. It holds elections of its Executive Committee and Office Bearers every year under provisions of The Trade Organizations Act, 2013.
In the AGM, Mr. Shahbaz Zeb Khan, Secretary General POEPA has announced the official Election results of Elections 2022, held on 24th Sep 2022, wherein 14 candidates of the executive committee were elected 7 from each class corporate and associate. List of the wining candidates is given hereunder:  are Mr. Tariq Wazir Ali, Mr. Shujaat Ali, Mr. Gohar Sharif Butt, Mr. Sajid Ali Khan, Mr. Ghulam Shabbir Khan Baddani, Mr. Ahmed Farooq, Mrs Rukhsana Asghar. Furthermore newly elected members of executive committee from associate class, Mr. Shakeel Ahmed Abbasi, Asad Hafeez Kiani, Mr.Khawaja Khalid Ayaz, Mr. Syed Nizar Shah, Mr. Sajid Hussain, Mr. Abdul Rasheed Bhatti, Mr. Waris Ali Khokar.  All the newly elected members of executive committee will take OATH in the ceremony to be held in Annual General Meeting. Moreover the newly elected office bearers will also take oath, Mr, Aijaz Ahmed as Chairman POEPA, Mr. Faheem Iqbal as Senior Vice Chairman POEPA, & Mr. Asad Hafeez Kiani as Vice Chairman POEPA. A group of ethnic leaders joined together to facilitate OEP community relations and sector enhancement.
More than 400 stakeholder OEPs will probably attend the Annual General Meeting, POEPA will present the Audited Financial Statements for the fiscal year end June 2022. Further the outgoing Chairman would give detailed briefing over the achievements and progress in the previous year. Later the newly elected Chairman Mr. Aijaz Ahmed and other office bearers would propose the future plan of activities, and commitments to play a leadership role in various planning tables, coalition and collaborative groups and partnerships to promote and enhance the manpower promotion sector of Pakistan.
Meeting was Started With the recitation from the Holy Quran and National Anthem Of Pakistan.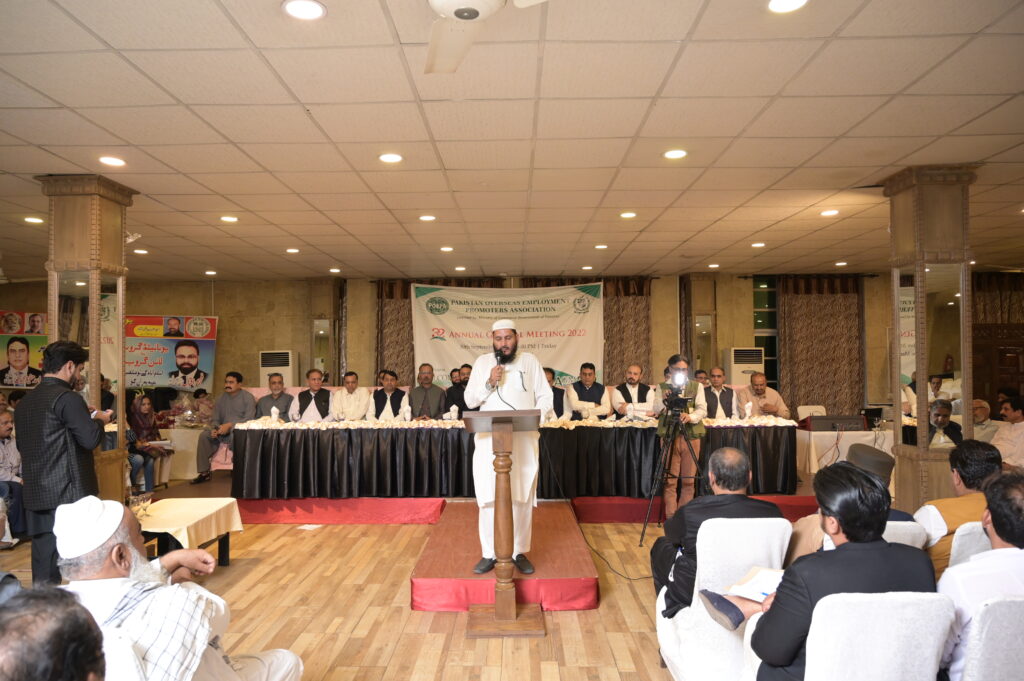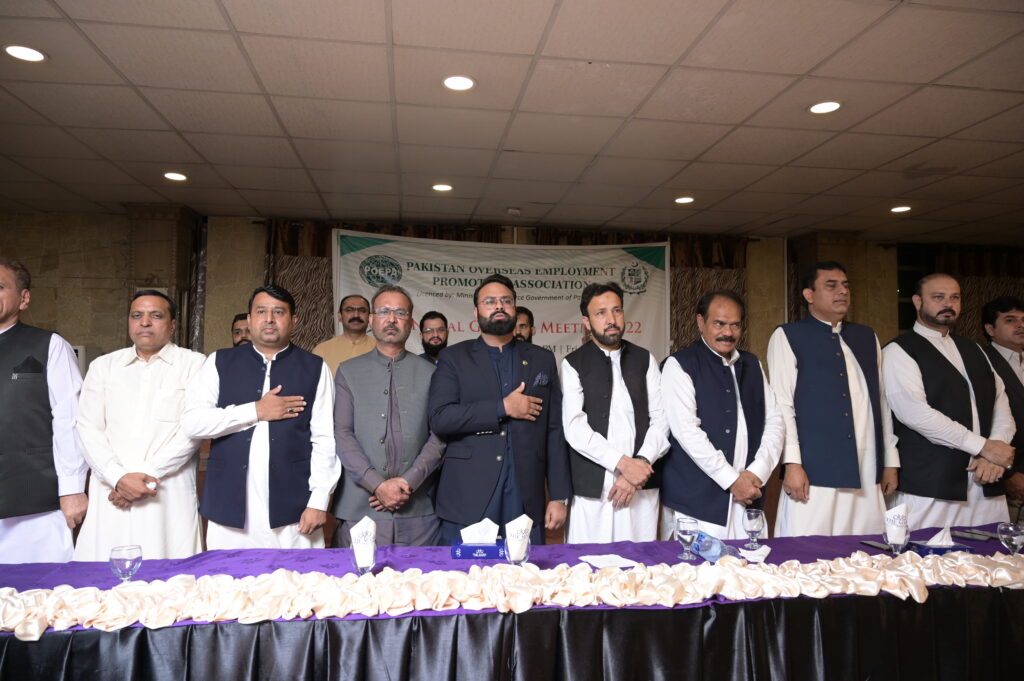 Announcement of official result of POEPA elections for the year 2022-23.
Election Commission of POEPA 2022 Mr. Raja Mehmood, Mr. Riaz Hussain Shah and Zahir Ullah Jan has announced the official Election results of Elections 2022, held on 24th Sep 2022.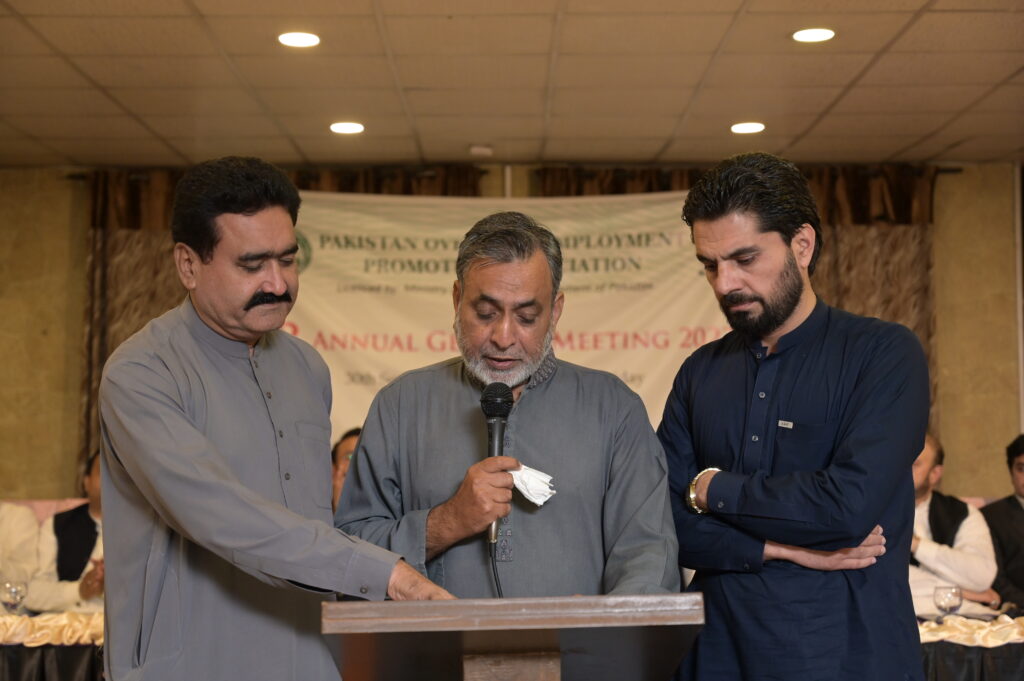 Oath taking ceremony of newly elected members of Executive Committee and office bearers.
Office Bearer Oath Taking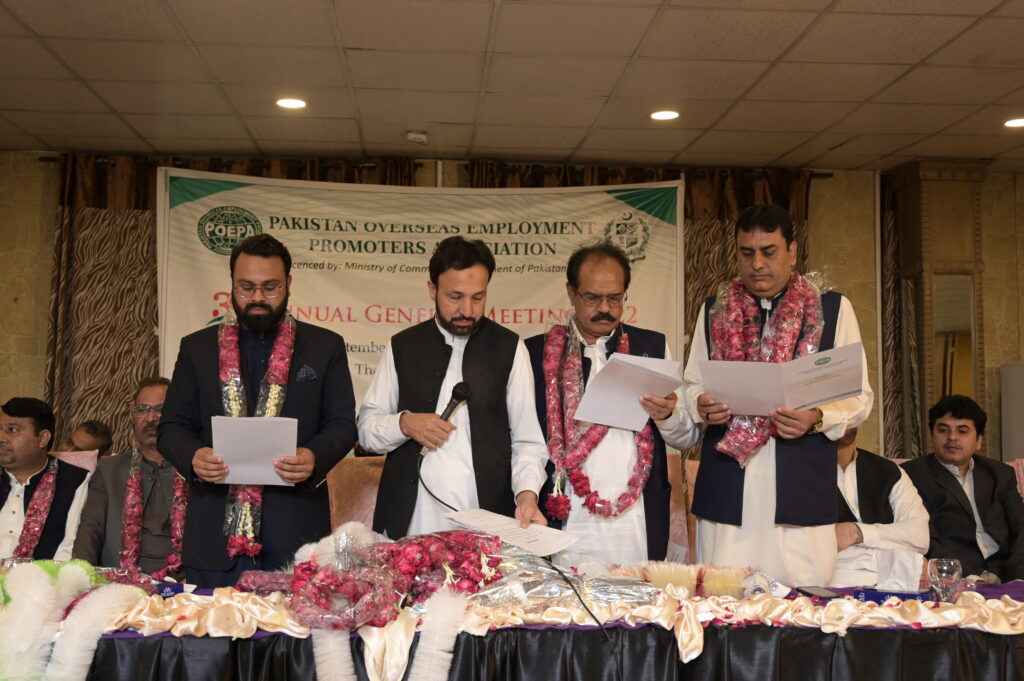 Executive Committee Oath Taking By Newly Elected Chairman Mr, Aijaz Ahmed.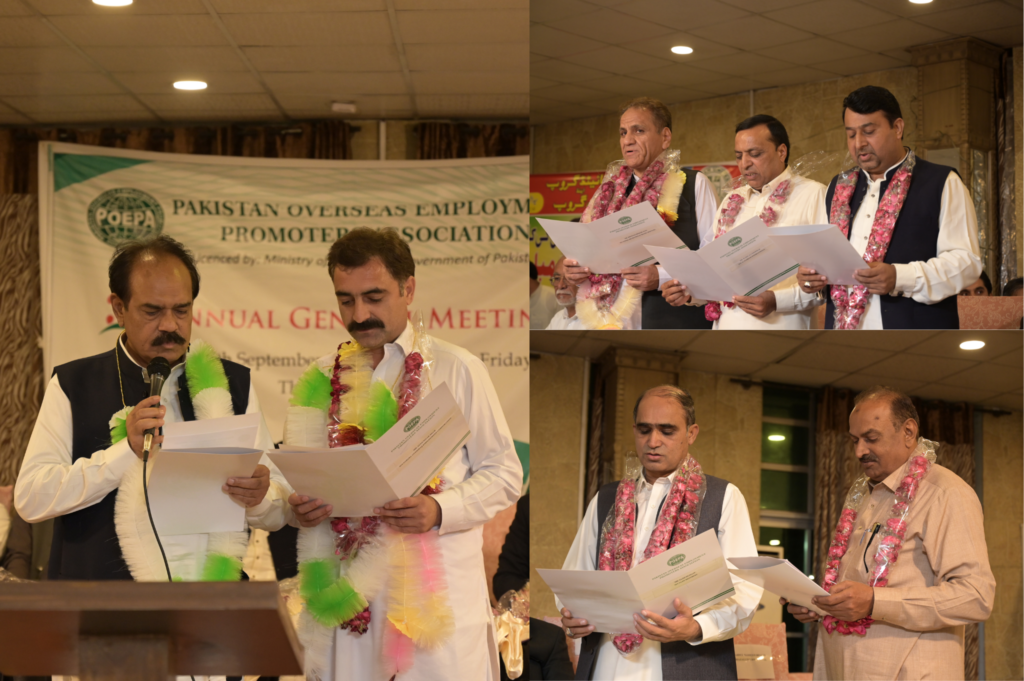 Briefing on performance and goals achieved of the outgoing executive committee & office
bearers.
Distribution of performance awards and appreciation certificates to association staff &
others.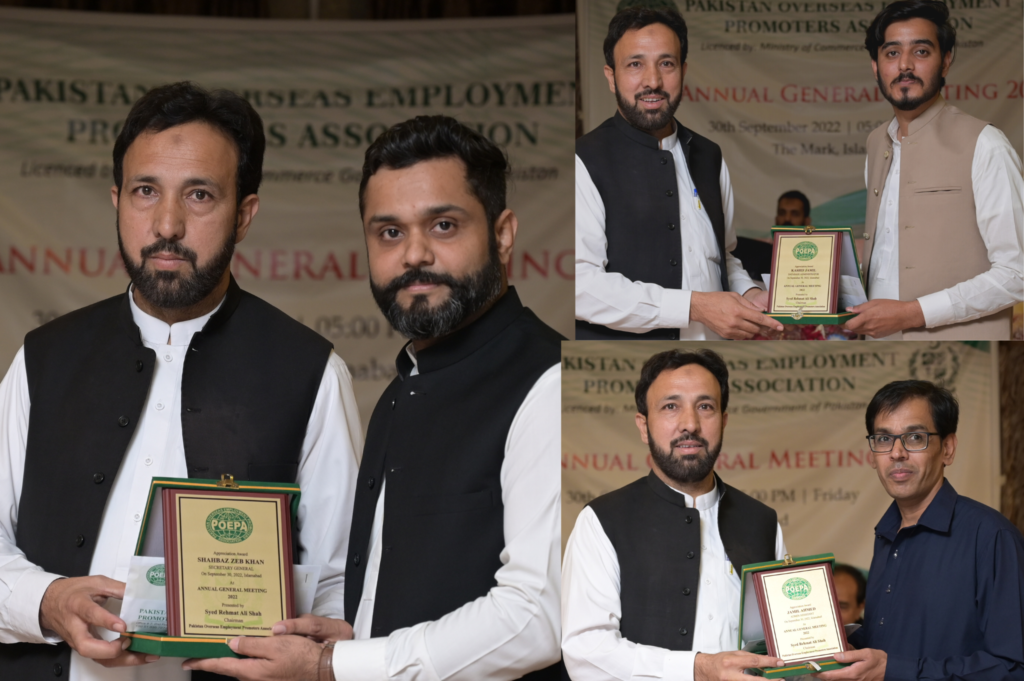 Speeches By OEP Members & Group Leaders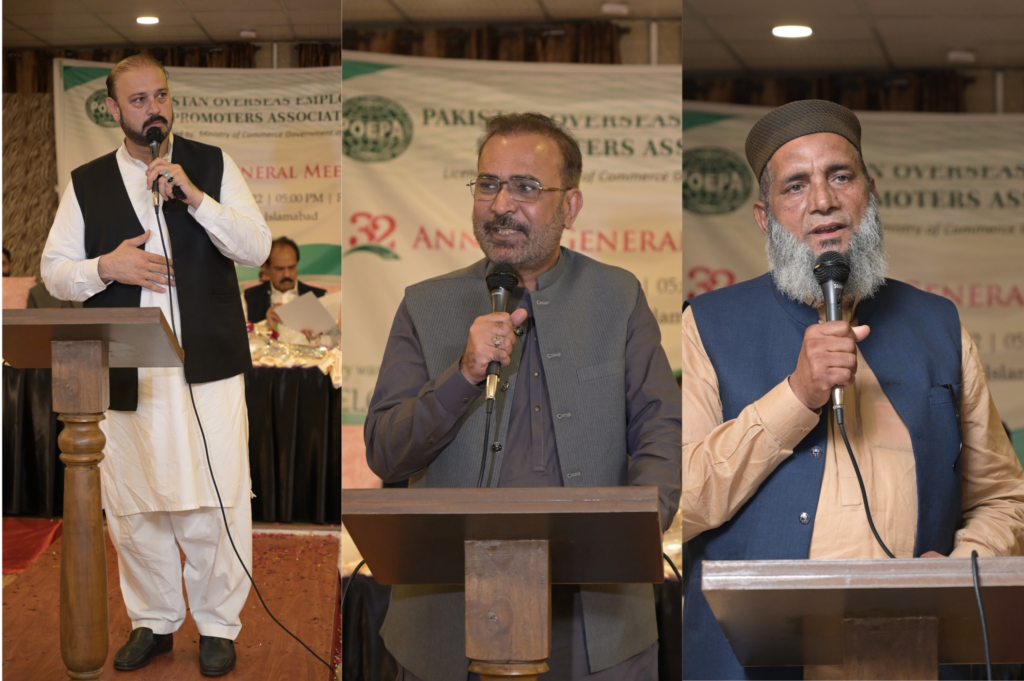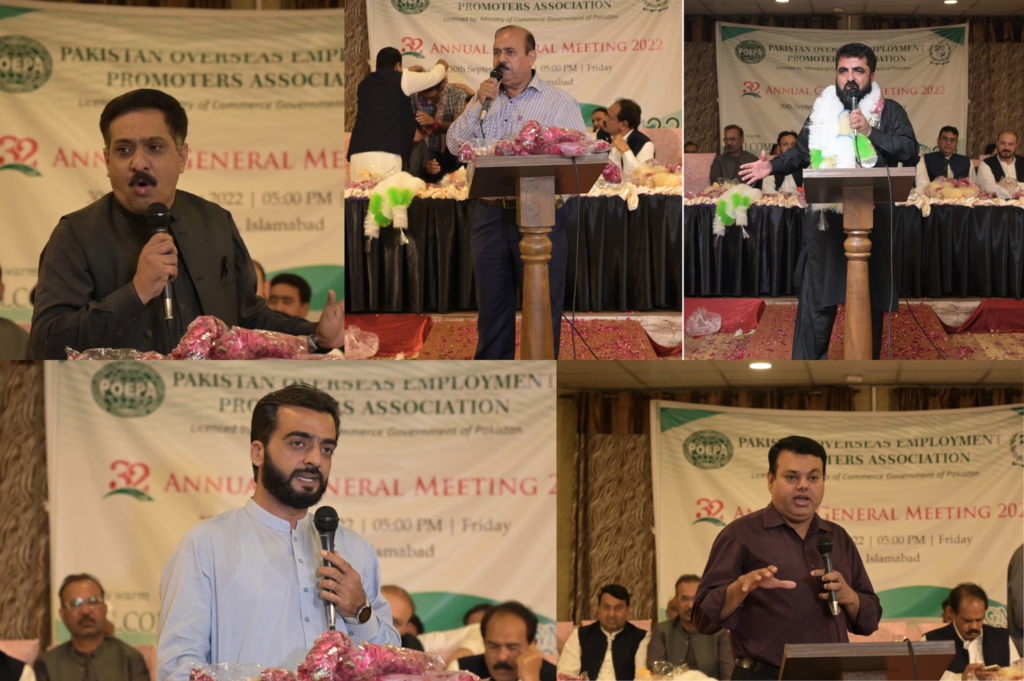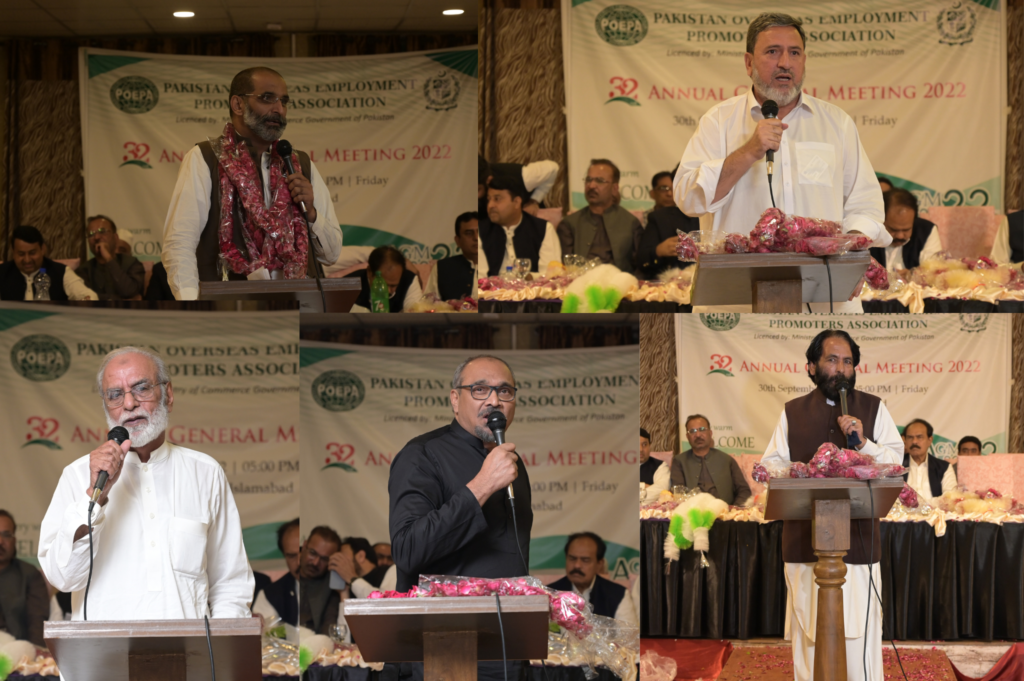 Handing and taking over charge by the ex- office bearers & executive committee to newly
elected office bearers and executive committee.